Greater Seymour Trust Fund - Special Grants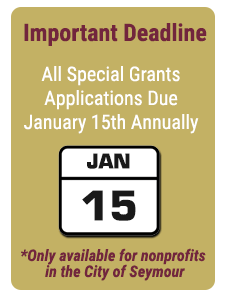 The Greater Seymour Trust Fund Board of Managers annually allocates funds to be distributed to 501(c)(3) organizations in Jackson County. Notice is published each year in the local newspaper and on this site describing the funds available.
In order for an organization to qualify for consideration of grant funds the organization must have an Internal Revenue Service 501(c)(3) designation and the funds must be used within the City of Seymour, Indiana. The grant request may be for existing or new capital projects, equipment, technology and the support thereof. This is a one-time award for the purposes stated.
Available grant funds are announced after the annual meeting of the Board of Managers of the Greater Seymour Trust Fund. The annual meeting is generally held the second Tuesday of November. At that time a notice is published in the Seymour Tribune and a notice is mailed to a list of organizations which is maintained by the bank. If your organizations would like to receive this notice, please contact the JCB Wealth Management at (812) 522-3607.
Please visit our application page to complete our online application form.
Please Note: If the application deadline falls on a weekend, the due date defaults to the following Monday. The cut-off for online submissions will be 11:59 PM EST on the due date unless otherwise indicated.
---