Establish a Scholarship
Most of the funds in the Greater Seymour Trust Fund were established not only to honor special people, but also to serve a specific need which is or was close to the heart of those whose name it honors. A contribution of $10,000 or more allows the establishment of a separate fund for your specific purpose.
The Greater Seymour Trust Fund is a private foundation which makes distributions to recipients who have a 501(c)(3) designation. JCBank acts as Trustee for the Greater Seymour Trust Fund and the Fund is directed by a Board of Managers. The current Trustee's fee for the fund is 1.25% on the current market value of the fund. The Trust makes distributions based on total return as approved annually by the Board of Managers.
Consider the Following When Establishing a Scholarship Fund
What would you like the Name of the Fund to be?
What is to be the Purpose of the Fund? (Do not define your intended use of funds too narrowly as this may cause the funds not to be granted).
Are there available funds sufficient to carry out the mission of the fund?
Guidelines may be established by Grantor and upon review accepted by the Trustee.
If Scholarship Fund,

Who is to be considered an eligible student?
Will scholarship be for tuition only, or include an amount for other expenses?
Will ongoing GPA be required?
Will scholarship for subsequent years be made?
Will number of scholarships be limited to one participant a year?
Scholarships are made payable to the student and the student's school.

Possible criteria for scholarship eligibility:

Financial Need
High School/College GPA
Community Service
School Activities
Contact the Greater Seymour Trust Fund
For additional information regarding establishing a trust fund with the Greater Seymour Trust Fund please contact: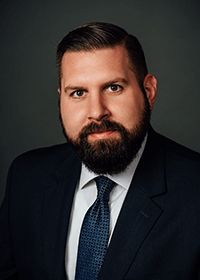 Brandon Hunsley, CTFA
AVP, Wealth Management Officer
JCBank
Phone - 812.524.4411
Email - This email address is being protected from spambots. You need JavaScript enabled to view it.